---
The Embassy will be CLOSED TO THE PUBLIC on 31 October & 1 November 2017
---
Click HERE


for Philippine & Pakistan Public Holidays 2017
---

---
LOCATION:
ZHOU-ENLAI AVENUE, PLOT NOS. 3, 4 and 5, DIPLOMATIC ENCLAVE, SECTOR G-5, ISLAMABAD, PAKISTAN
---
OFFICE HOURS:
9:00 am - 5:00 pm
(Monday-Friday)
9:00 am - 12:00 pm
(Visa Processing)
2:00 pm - 5:00 pm
(Visa Releasing)
Consular: +92 51-8487504
Facsimile: +92 51-8487513

E-mail: islamabad.pe@dfa.gov.ph
isdpe@isb.comsats.net.pk
Emergency Number for
Assistant to Nationals:
+92 333-5244762
(To be used by OFWs in distress strictly in emergencies or danger to life or limb or arrests ; NOT FOR CONSULAR, PASSPORT AND VISA QUERIES)
---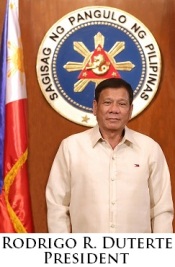 ---
---
---

---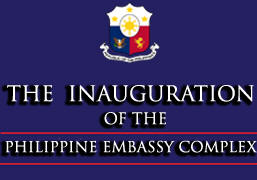 ---
Click flag to view history & proper display
---

---
President Duterte conferred Presidential Awards to 23 outstanding overseas Filipinos, organizations and FilCom Partners
---

---
PH Release


RODY LIKENS RECRUITERS TO DRUG TRAFFIKERS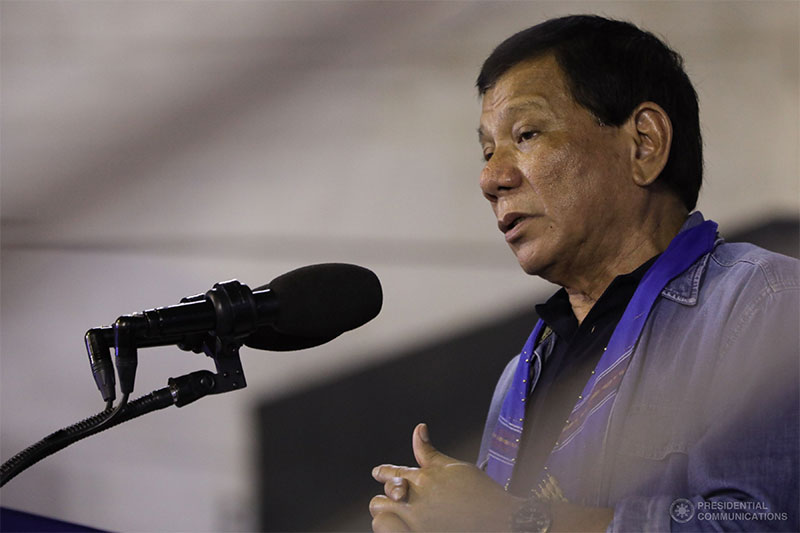 Durerte said he issued a shoot-to-kill order against human traffickers after the parents of three Davao women sought his help because they could no longer get in touch with their daughters.
"Like the campaign against drugs, I have declared war on illegal recruiters," he said.
The President also reminded overseas Filipino workers (OFWs) to follow the laws of their host countries to avoid legal problems.
PH Release


AWARENESS VIDEO FOR THE INTERNATIONAL DAY FOR DISASTER REDUCTION (IDDR) 13 OCTOBER 2017

ATN PHOTO Release


OFW Marilou Moriente (2nd from right) was repatriated to the Philippines from Karachi on 08 October 2017. She was assisted by Mr. Nadir Rehman, representative from Karachi PHCG and members of the Filipino community led by Ms. Adhel Khan prior to her flight at Karachi International Airport.
PH Release


WORLD BANK PRAISES PH FOR SUPPORT OF MIGRANT WORKERS


President Rodrigo Roa Duterte mingles with the 160 repatriated overseas Filipino workers (OFWs) who were granted amnesty after they were found working illegally in the Kingdom Saudi Arabia. The President welcomed the repatriated "runaway" OFWs and provided them with cash assistance upon his arrival at the Ninoy Aquino International Airport Terminal 1 on April17, 2017, following his successful visits to the Kingdom of Saudi Arabia, Bahria and Qatar. PRESIDENTIAL PHOTO/ACE MORANDANTE
PE Release


PHILIPPINE EMBASSY IN ISLAMABAD PARTICIPATES IN THE WORLD TOURISM CONFERENCE 2017 IN PAKISTAN


"Ambassador Daniel Ramos Espiritu gives an introduction on Philippine tourism and audio-visual presentation featuring the top Philippine tourist destinations during the World Tourism Conference held at Serena Hotel on 28 September 2017."
PE Photo Release


ATN Officer, Sitti Tawffiya Jamahali (middle) accompanied by Mr. Salman of Philippine Honorary Consulate General Lahore during the repatriation of OFW Marites S. Landicho on 20 September 2017 at Allama Iqbal International Airport, Lahore.
OTHER NEWS/ANNOUNCEMENTS...

1. PASSPORT
2. VISA
3. LEGALIZATION OF DOCUMENTS


AUTHENTICATION/
NOTARIZATION


SOLEMNIZATION OF MARRIAGE
4. CIVIL REGISTRATION


REPORT OF BIRTH


REPORT OF MARRIAGES


REPORT OF DEATH
5. ASSISTANCE TO NATIONALS
6. REGISTRATION
7. SAMPLE CONTRACT AGREEMENT
8. NO OBJECTION CERTIFICATE (NOC) EMPLOYMENT CONTRACTS, AGENCY HIRING & DIRECT HIRING
9. SCHEDULE OF CONSULAR FEES
---
---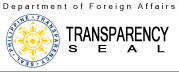 ---

DANIEL RAMOS ESPIRITU
Ambassador
read more...
---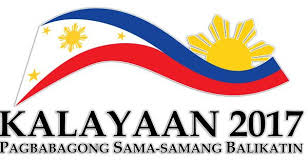 Please find attached letter by the Embassy to Ms. Pinky Gumban Khan who claims that 7 Recruitment Agency Published at the website are all illegal. read more.....