PRESS RELEASE
AMBASSADOR ESPIRITU PRESENTS CREDENTIALS TO PAKISTANI PRESIDENT MAMNOON HUSSAIN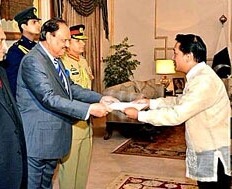 Click HERE to view video

Ambassador Daniel R. Espiritu, presented his credentials as Philippine Ambassador to Pakistan to President Mamnoon Hussain in a grand ceremony filled with pomp and pageantry at the Aiwan-e-Sadr Presidential Palace on November 3, 2015 in Islamabad.
Ambassador Espiritu was accompanied by his wife, Cecille Lenore Carryn Sarsuelo Espiritu, Second Secretary and Consul Lorenzo Rhys Jungco IV and Philippine Embassy Protocol Officer Ermie Tangan.
The colorful pageantry started with the Ambassador being paraded on a horse-drawn ceremonial carriage amidst fanfare, escorted by a cavalry detachment of the Presidential Honor Guards cavalry in full regalia. The highlight was the review of two platoons of the elite Presidential Honor Guards on the parade grounds, followed by the presentation proper and a brief meeting with the Pakistani President.
During his meeting with President Hussain, Ambassador Espiritu conveyed the warm greetings of President Benigno S. Aquino III. He expressed appreciation for the important support extended by the government of Pakistan for the Southern Philippine peace process. He vowed to work for the deepening of the long- standing friendship between the two countries and for the enhancement of their political, economic and socio-cultural cooperation not only on the bilateral level, but also in regional affairs.
President Hussain, in response, conveyed his best wishes to President Aquino and acknowledged the growing ties between the Philippines and Pakistan. He noted the cooperation of the two countries on various international issues and stressed the contributions of Pakistan to the maintenance of peace and stability in the region and to the fight against terrorism.
The presentation of credentials was followed by a lunch hosted by the Ministry of Foreign Affairs of Pakistan and a dinner hosted by the Dean of the Diplomatic Corps in Islamabad.